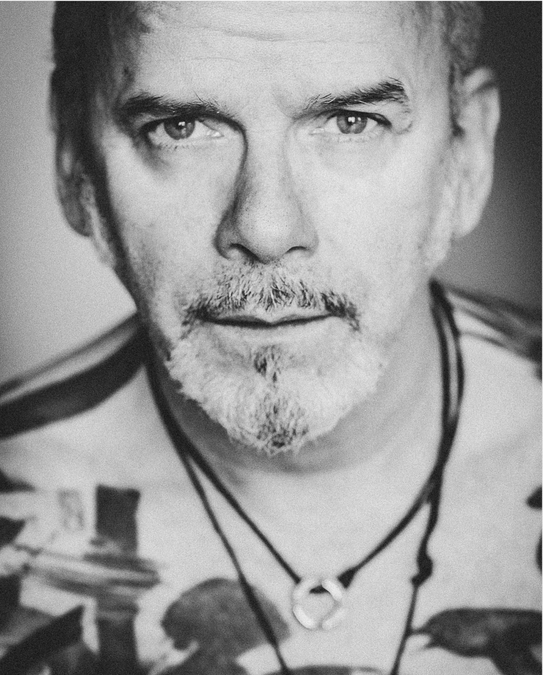 German Artist. Painter, Rock Musician, Performance Artist and Photographer.
Winner of the Great Artist Exhibition: Art of the Year 2021 CHINA
In the midst of silence, one drop is enough to spread undulating into all levels, vibrating and swinging. And so one thought is enough to change you and this world. 
2024
Helsingborg/ Sweden SOLO Exhibition - March
Hismoon Art Gallery/ Taicang/ China - SOLO Exhibition June - August
BMW Exhibition Center Copenhagen/ Denmark 
Kunsthalle Kuehlungsborn- Germany
Kiyoshi Art Gallery/ Tokyo/ Japan
Beijing 798 Art Space/ China
Galerie Kröger Kühlungsborn
2022
Urania/ Cologne/ Germany
Art Basel - Art Week Wynwood/ Miami/ USA
2021
East Side Gallery Art Space- Berlin (with Rainer Langhans), Germany
Ackerstadtpalast- Berlin (with Performance Art "UN- LEASHED), Germany
Te Xiang Art Gallery, China 
Hismoon Art Gallery, Tai Cang/ HEROES IN THE MIRROR - Shanghai Street Photography, China
Wagenhalle Colonge, My Soul Asylum & E.E.63', Germany
2019
AOTU Gallery - Book Launch (Book Pre- Release for "Tales of Dying Butterflies" by Crow)/ Beijing/ China
AOTU Gallery - Un- Leashed/ Beijing/ China
Mirror Gallery 798/ Beijing/ China
Sino Art Gallery/ Shanghai/ China
West Bund Exhibition Center/ Shanghai/ China
M50 Art Center- E.E.63/ Shanghai/ China
Kiyoshi Art Center/ Tokyo/ Japan
Gallery North Bund/ Shanghai/ China
2018
2nd Art Rock Festival Shanghai/ China/ (Founder)
City Museum Bad Salzungen "Painted Songs in Gemany"/ Thuringia/ Germany  
SH Exhibition Center"Same Color, Same Language" Shanghai/ China
Kiyoshi Art Center/ Tokyo/ Japan
2017
SH Art and Fashion Center, Shanghai/ China
Art Lessons at Beijing
ArtGoGo Center JU- Exhibition- Shanghai/ China
2016 - 2011
Art Lessons at Keimei Gakuin High School (Exhibition)/ Kobe/Osaka/ Japan
Bund 6/ Shanghai/ China
Banshe Gallery/ Shanghai/ China
Ours Gallery/ Tai Cang/ HangZhou/ China
2010 - 2001
Thun Center/ Switzerland
Factory Art/ Harijavalta/ Finland
Art House Gallery/ Bad Salzungen/ Germany
2000 - 1991
Design Rock Band Merch and Album Cover Exhib./ Thuringia/ Germany/ Solo
Exhibition Art House/ Dermbach/ Germany
2023
NORDIC ART FAIR/ Copenhagen/ Denmark
ART  SPACE GALLERY/ Shanghai/ China
ART LAP Gallery/ Abbot Kinney/ Los Angeles CA
Carrousel du Louvre/ Paris/ France
Haze Gallery/ Berlin/ Germany
Rome Art Fair/ Italy
ART LAP Gallery/ Abbot Kinney/ Los Angeles CA
Carrousel du Louvre/ Paris/ France
Artbox Expo/ New York/ USA
Basel Art Week/ Basel CH
Swiss Art Expo/ Zurich CH
Thomson Gallery/ Zug Switzerland
Casa del Arte/ Palma de Mallorca/ Spain
Miami Art Weeks/ Miami/ USA
2022
Miami Art Week/ Wynwood/ USA
MoonArt Galerie/ Aachen/ Germany
ARTMUC / Munich/ Germany
Decode Gallery/ Tucson AZ/  USA
D.Y.N Art Gallery/ Shanghai/ China
AOA;87 Gallery/ Bamberg/ Germany
Museum of Contemporary Art /Cheng Du / China
National Art Museum/ Qin Dao/ China 
2020/ 2021
Swiss Art Expo/ Zurich Switzerland
2019
Gobi Desert Art Festival/ Mongolia
HISMOON Sino Art Gallery/ Taicang/ China
Guilin Intern. Art Museum/ Guilin/ China
Tokyo Art Fair/ Tokyo/ Japan
German Embassy Beijing/ 2019/ Beijing/ China
Kiyoshi Art Center/ 2019/ Tokyo/ Japan
2018
ACCROCHAGE Expo7 Shanghai/ China/ Group
NL Gallery/ Beijing/ China/ Group
Kobe Tower Intern. Art/ Kobe/ Japan/ Group
2nd Art Rock Festival Osaka/ Japan/ Group (Founder)
Intern. Art Exchange City Hall/ Hong Kong/ Group
Phoenix Gallery 798/ Beijing/ China/ Group
Tokyo Art Fair/ Tokyo/ Japan/ Group
Rong Art Space/ Beijing/ China/ Group
2017
SOHO Art Center/ Shanghai/ China
798 Art Area/ Beijing/ China
1st Kobe Art Rock Festival/ Kobe/ Japan/ (Founder)
Fusion Art Center/ Palm Springs/ USA
Black & White Art Gallery/ Athen/ Greece
1st Art Rock Festival Shanghai/ China (Founder)
2016 - 2011
L & L Gallery/ Shanghai/ China
2010 - 2001
Mountain Art Gallery/ Frutigen/ Switzerland
Rocks Art Center/ Helsinki/ Finland
Design International/ Helsinki/ Finland
Design Art/ Thuringia/ Germany